Non-custodial crypto solutions allow users to control their own private keys, ensuring they have full ownership and control over their cryptocurrency assets without relying on third-party services to hold their funds.
The benefits of using non-custodial virtual currency payment solutions:
1) User Control Over Funds: Non-custodial solutions allow users to have full control over their funds. This means that only the user has access to their private keys and therefore complete control over their cryptocurrency.
2) Enhanced Security: Since users are in control of their own funds and not reliant on third-party services, there's a reduced risk of centralized hacks.
3) Users are not as exposed to potential internal vulnerabilities of an exchange or custodial service.
4) Privacy: Non-custodial solutions generally offer more privacy since transactions are executed directly between parties without the intervention of a third-party service. This might offer more anonymity (though not complete) in transactions.
5) Lower Trust Requirements: You don't have to trust a third party to keep your cryptocurrency safe. This can be especially valuable in the world of cryptocurrencies, where exchanges and custodial services have been known to be hacked or go out of business.
6) Reduced Counterparty Risk: In the world of traditional finance, counterparty risk refers to the risk that one party in a transaction might default on their contractual obligation. By using non-custodial solutions, the counterparty risk associated with third-party custodians is eliminated.
7) Accessibility: Typically, non-custodial solutions, especially those based on decentralized platforms, are accessible from anywhere and don't require any permissions, making it easy for users worldwide to adopt.
8) Potential for Lower Fees: While not always the case, some non-custodial solutions might offer competitive fees compared to their centralized, custodial counterparts.
Here's a list of some non-custodial solutions:
Wallets
Metamask: A web-based wallet for Ethereum and Ethereum-based tokens.
MyEtherWallet (MEW): A client-side interface for managing Ethereum wallets.
Trust Wallet: A mobile wallet for multiple cryptocurrencies.
Ledger Live with Ledger Nano S/X: Hardware wallets for secure cryptocurrency storage.
Trezor Suite with Trezor One/Model T: Hardware wallets that keep private keys offline.
Coinomi: A multicurrency wallet supporting numerous coins and tokens.
Atomic Wallet: A decentralized wallet offering atomic swaps across various cryptocurrencies.
Decentralized Exchanges (DEX)
Gnosis Safe: the most trusted decentralized custody protocol and collective asset management platform on Ethereum and the EVM.
Uniswap: A decentralized exchange for ERC-20 tokens on Ethereum.
SushiSwap: A DEX that started as a Uniswap fork.
Balancer: An automated market maker for multi-token pools.
Curve Finance: A DEX optimized for stablecoin trading.
1inch: A DEX aggregator sourcing liquidity from multiple platforms.
Kyber Network: A protocol aggregating liquidity for optimal rates.
PancakeSwap: A decentralized exchange on Binance Smart Chain.
Serum: A DEX on the Solana blockchain.
Always exercise caution when using these platforms. Ensure you're visiting the official sites, as phishing sites mimicking these platforms can sometimes appear in search results.
You want to receive payments in EUR/GBP compliantly, but the payer wants to use cryptocurrencies or the other way around? Look further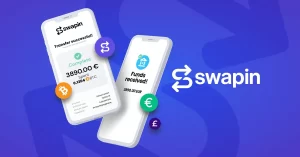 SwapinPay – allows you to pay any EUR or GBP invoice with crypto or use crypto to transfer money to friends, family or any other bank account.
Enter bank account details. 

Select the cryptocurrency you wish to use for payment, and enter the recipient's bank details for payment.

Transfer crypto. 

Transfer your crypto by sending it to the provided SwapinPay wallet address, or by scanning a QR code with your wallet app.

Recipient gets fiat in bank. 

Once the crypto is received, it will be instantly exchanged and money (e.g. EUR, GBP) will be sent to the provided bank account.
SwapinGet – Convert crypto to fiat on your bank account within minutes
Cash out crypto with a compliant, secure, and nearly instant crypto-to-bank transfer
Convert TOP crypto coins, including Bitcoin, Ether, USDt, etc to EUR or GBP on your bank account within minutes
Enjoy a safe and secure non-custodial solution, that doesn't hold your funds
SwapinCollect – Accept Bitcoin, get paid in EUR or GBP
Let your customers pay in crypto and get your local currency in your bank account
Increase revenue by getting access to selling to 320M crypto owners
Create a simple SwapinCollect link to start accepting crypto, no integration needed